Battery system wrench YS-e wrench

Lighter, quieter and smarter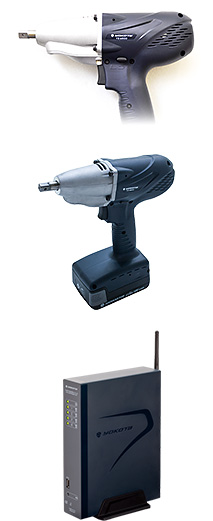 High tightening functions like torque control, angle monitoring etc., inherited from Yokota air operated system wrenches, are realized even by battery operated ones..
Working efficiency improvement by wireless technology
Simplification of installation and relocation
Clean & Silent
Low vibration and Low reaction force
Workability Improvement by such design as compact, light-weight and more quiet
No need of power cord (air hose or power supply cord) and signal cable owing to the battery operation and wireless communication.
Simplification of installation and relocation owing to the saving of wiring harness
YS-e (tool)
Strain gauge and direct current detection system make the tool compact and weight saving
Low vibration, low noise and low reaction force due to the direct drive
Built-in controller and driver functions
Built-in buzzer/LED inform an operator of tightening result and abnormal tightening
Battery with remaining capacity display adopted.
Tool Protector with different color by model
Applicable capacity : Line-up to M5-M10 (5-50Nm)
WU-1 (wireless unit)
Possible to connect 4 tools with 1 wireless unit.
Setting value can be input from PC-1 or PC
Saving / writing of setting value, retrieval of tightening result are possible by a USB drive.
10,000 tightening data accumulation
Tightening result is displayed either in DS-1 or PC-1.
Optional setting of DS-1 display unit or PC-1 programing console for free configuration.